Fallout 76 Map
---
The game may not excel in a few aspects according to some people, but no one can deny that Fallout 76's map is great. The map is quite large and has lots of places for players to go to and find new supplies or potentially discover great secrets. If you're new to the game, here's what you need to know about the resource map of Fallout 76, such as the places which are most suitable for you to explore.
Navigating the Large Map of Fallout 76
There's lots of places to explore when you take a look at the Fallout 76 map, but you obviously can't go running around if you're new to the game. Lots of places in Fallout 76's map are too dangerous for some players. Each area has its specific difficulty, and we've prepared a list of this below to make it easy for you to know where you need to go and what you need to avoid.
The first area is the forest, which is for beginners below level 10 and doesn't feature very powerful loot or enemies.
Second is the Toxic valley. Monsters here can be around the levels 10-25, and the area is generally for players under level 15.
Southern Savage Divide for players under level 25, and features enemies from anywhere around level 15-100. The same goes for the Northern Savage Divide in the Fallout 76 resource map.
The next area is the Ash Heap, which generally features monsters around level 25-30. The recommended player level is also in the same range.
The Mire is one of the cruelest areas in Fallout 76, and is for players between 30-35. Monsters here can be anywhere between level 30-100.
At last is the most dangerous part of the Fallout 76 resource map, known as the Cranberry Bog. This area is strictly recommended for players above level 35, The monsters here are all in the level range between 35-100, meaning each of them is potentially a huge threat.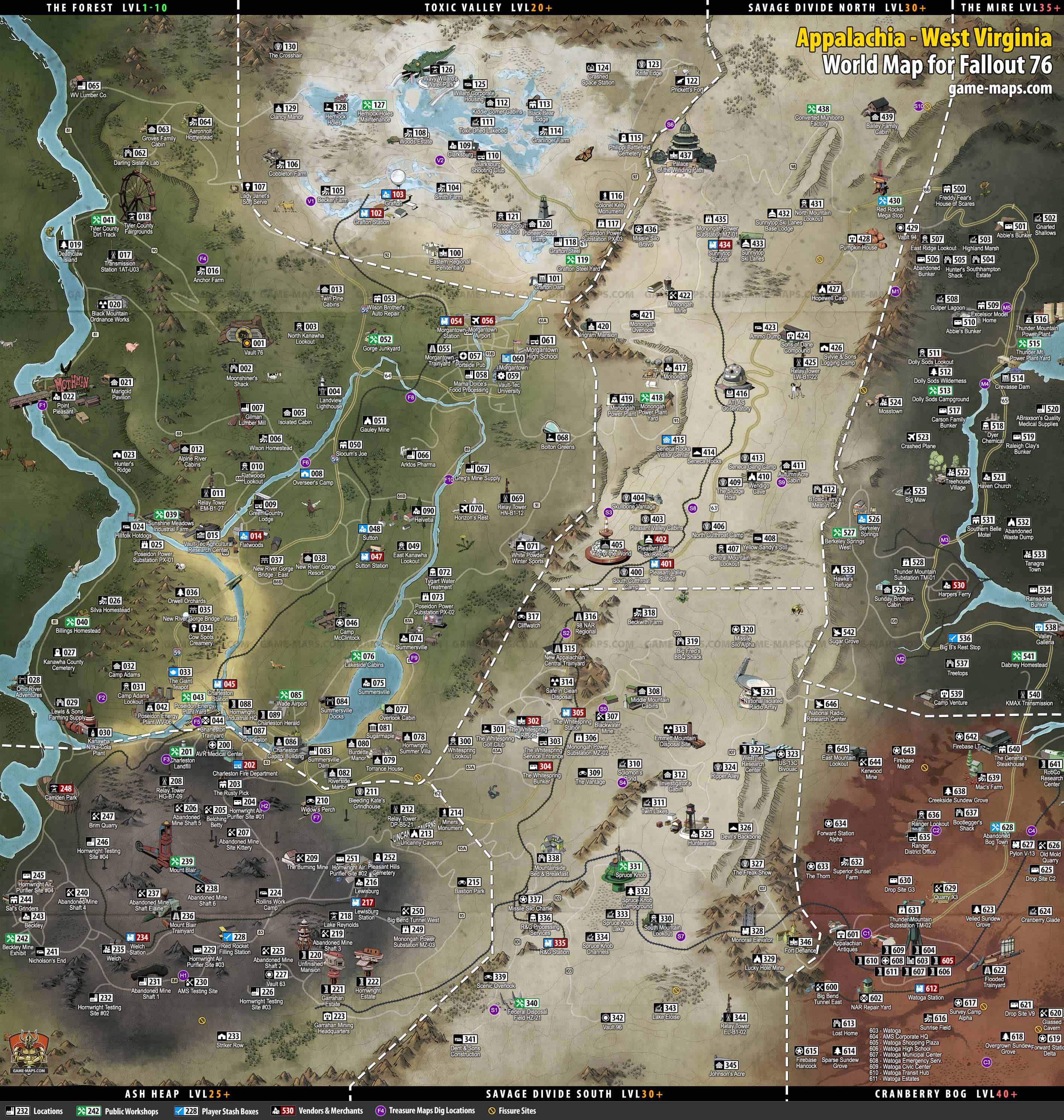 ---
---