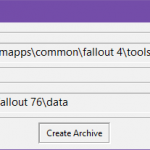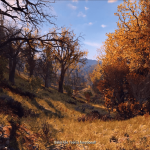 ---
Baka File Tool – (Loose) File Loader
Provides an easy way to use modded files without editing the game's archives manually.
Overview
Baka File Tool is a simple way to load new textures, models, sounds, and whatever in Fallout 76 without having to edit the game's archive files yourself. It doesn't require you to change the way you would install mods from any other Bethesda game, and all it requires is Fallout 76 and Fallout 4, with the Creation Kit. It works by scanning Fallout 76's Data folder, and adding everything that's a valid file to a new ba2 Archive, which can be loaded with the provided baka (dummy) plugin. This allows the user to use any many mods as they want that don't require plugins of their own, without having to worry about a dummy plugin for each and every one of them, taking up limited plugin slots. At least until we get proper loose file loading in 2019 with mod support.
Installation
You'll need to grab either the Baka File Tool archive, or installer as well as the Baka File Tool resource file on the Files tab. First, extract the resource file to your Fallout 76 Data folder like you would do for any other Bethesda game. Second, either run the Baka File Tool installer, or extract the archive. Whichever installation method you choose, make sure to install it outside of Fallout 76's directory, and outside of protected folders like Program Files. When you run the program, it will enable the .esm file automatically, placing it at the top of your load order.
Usage
First, you'll probably want some mods to have a reason to use Baka File Tool in the first place. Once you do, you can install them like you would in any other Bethesda game. When you're done, launch Baka File Tool and it will try to find your Fallout 4 and Fallout 76 install locations. You can see the paths it's detected, if any from the text on screen, and should it find both, all you have to do is click the "Create Archive" button. Otherwise, you'll need to direct it to the location of Archive2, and Fallout 76's data folder first. The program automatically copies the created ba2 files to your data directory, so as long as you've correctly installed the Resource file, you're good to play from there.
FAQ
Q: Baka File Tool didn't copy the archive files to my game folder!
A: Depending on where you've installed the game, you might need to run the tool as an administrator, or copy the files over yourself. If you've installed the game under something like Program Files, move your installation. Never install anything you're modifying under Program Files.