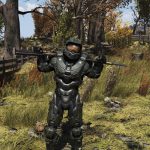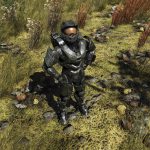 Blue Team FO76 Port
---
This mod aims to port the Blue Team mod from Fallout 4.
Matser Chief Only (for now).
Description
This mod aims to bring StevenNightfall's Blue Team mod.
For the moment, only the Master Chief's armor is ported and replaces the Valorous Alistair Outfit
I'm not playing the game those days, pretty boring, I might come back for future seasons or when real content will be added and then, I might port the rest of the armors.
I must inform you that I'm not really good into making textures and that, Light and Reflection maps really REALLY are garbage. It might look weird under certain conditions.
If someone is good enough to make good Light and Reflection maps, then i'm not against a little help !
Manual install:
1. Adding mod files in data folder
My mod consist of a Ba2 file and a Xml configuration.
Copy and past the Ba2 and Xml in the data folder where Fallout 76 is installed.
Most mods except one like SFE need to be in that data folder.
Default Fallout 76 Installation Path:
Program Files (x86)\Bethesda.net Launcher\games\Fallout76\Data
2. Preparing Fallout76Custom.ini
If you don't have a Fallout76Custom.ini in your folder "Documents\My Games\Fallout 76" let's create one.
Create a text file named Fallout76Custom inside that folder
Modify its extention from .txt to .ini
*you can also just copy/past Fallout76Prefs.ini delete his content and rename it Fallout76Custom
3. Editing Fallout76Custom.ini
Open Fallout76Custom.ini with a text editor and write your new ba2 file name under [Archive] sResourceArchive2List
If you have another mod installed, separate .ba2 files with a comma (,) at the sResourceArchive2List command.
If there is conflict, only last mod conflicting in the list of sResourceArchive2List will take effect.
Spaces between ba2 and commas doesn't matter.
Examples:
For CustomCrosshair only:
[Archive] sResourceArchive2List = CustomCrosshair.ba2
Using multiples:
[Archive] sResourceArchive2List = CustomCursor.ba2,CustomCrosshair.ba2
With the one I'm using:
[Archive] sResourceArchive2List=SaveEverything.ba2,TZMap.ba2,TZMapMarkers.ba2,BetterInventory.ba2,
PerkLoadoutManager.ba2,ImprovedHealthBars.ba2,EventNotifications.ba2,CustomCrosshair.ba2,
CustomCursor.ba2
*Note here that your text file won't wrap around like here on the nexus. Keep sRessourceArchive2List on one line.
Recommended tools:
https://www.fallout76mods.com/fallout-76-quick-configuration-ini-editor/
Recommended mods:
https://www.fallout76mods.com/stormtrooper-armor/