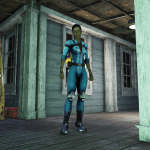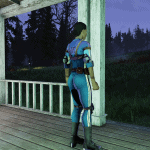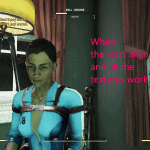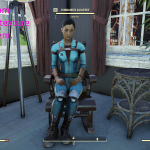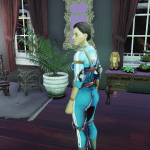 ---
Commander Sophia Daguerre Make over
Face, eye, and outfit replacer for Sophia, using Dixie Pig's Slooty Vault Suit and some vanilla textures.
You know Sophia would end up wearing your vaultsuit and make it her own.
I did't create this. It's a modified version of Dixie Pig's Slooty Vault Suit. All credit to Dixie Pig.This was a quick dirty test to see if I could port a CBBE outfit. If Dixie Pig asks I will pull this.
PROBLEMS:See images for examples of problems.
The body textures are based on CBBE. CBBE texures will make all naked skin show differently on a vanilla female body. If you want an example, see the random raider in the images. Once you go down the cbbe path for the basefemale body you may find it necessary to mod a lot of outfits.
(I preffer Enhanced Vanilla Bodies when playing 76 currently. Enhanced Vanilla Bodies BodySlide;)
In my heavily modded game the hand textures show up offset, too light, or too dark. Don't know if it's from my modding, CBBE 76, or random Bethesda bug. The hand meshes always show up correctly but at some point I may replace them with fingerless gloves to mask the problem. If you figure out what's going on let me know.
The facecustomization texture can, but rarely, causes the black face bug. I've had 1 black face bug problems with my lighter body. There are other random skin issues that can show up. A dark band around the wrist. Chest skin being too dark. Back of head not matching front of head etc. This seems to be a Bethesda issue because it's completely random.
A quick note to Baka file users. I found out the hard way that if you change a file and save it with Baka it will always exist in the Baka packed files. If you want to revert to the original you need to either 1. install a different file on top of the modified file or 2. delete the 4 Baka files and run Baka again. I constantly take my last Baka files and copy them to desk top and erase the 4 Baka files in my data and the 4 files in the Baka output folder.
DETAILS;
Female only, obviously.
Requires CBBE body textures. CBBE for Fallout76 (UNOFFICIAL) would be my suggestion. It's not manditory but it's well done.(My femalebody_d.dds file is a lightened version of cbbe 76 and that mod has the only complete CBBE texture set I've seen that works well.)I don't think my femalebody retexture's necessary but I'm including it just in case.
Blue eyes are optional. Eyes are a simple texture swap of light brown eye for blue. (I'm trying to figure out how to make Sophia a red-head with a different style but hair, both coloring and shape, have eluded me so far.)
Facecustomization is optional. Sophia's face customization number is 0054eb65 in the facecustomization file. I used another face set in the folder that was about the same skin shade. I think with the lighter skin file I created makes both the body and face lighter.
Textures are not great. None of them are from scratch. I don't have photo shop so I can't do textures like Regill explained to me or Ghostfc3s wrote about.
_d and _n files are saved as BC1 sRGB, and are from osv63's Union of colors for Slooty Vault JumpSuit. Numbers are Vanilla overlays from the Vaultsuit file.
_l files are vanilla, unaltered copies of Hancock's hat for the combat boots and the bathrobe for the vault suit.
_r files are straight renamed copies of the Hancock's hat _r.dds file.
The material files are altered version of Hancock's outfit. I chose that set because it has both cloth and leather, and is unused. If for some reason you have Hancock's outfit in your game this will recolor the mesh using the slooty suit textures. Hancock's hat will be colored by the Slooty combat boots. You are warned.
The slider files included are from Union of colors for Slooty Vault JumpSuit from osv63. I didn't use them to create the suit but I did test them in outfit studio.You have to use Bodyslide in F4 to create a custom mesh. The tool folder will not work in 76. You have to create your new mesh in f4 and then move it into 76. Body slide will either use Hancock's textures, or not recognize f76 textures and be grey with white text. All credit to osv63.
Credits;
DixiePig author of Slooty Vault Jumpsuit
osv63 author of Union of colors for Slooty Vault
JumpSuitgala153 author of CBBE for Fallout76 (UNOFFICIAL)
personal credits;
Regill who I can't recommend enough. Half of my 76 game is just his retextures.
Ghostfc3s author of Tutorial for Fo76 importing models
Internetisporn author of Silly Big and Nude
Estepa author of Estepa body
Tonicmole author of Busty 76 Armor Replacer
The unknown modder who made comment of using piper clothes in 76 for another mod. My Material file is a direct result.
Tools used;
Baka File Tool
Cloudy01's Fallout 76 Mod Manager
Outfit studio
Nifscope
Material Editor
Paint.net (to make crappy textures.)
XEdit