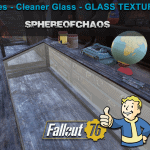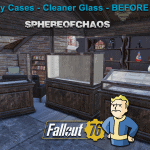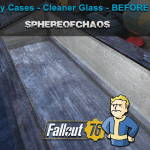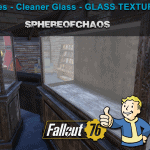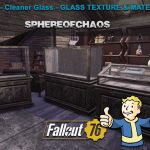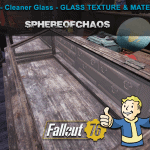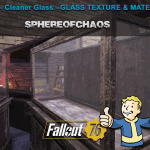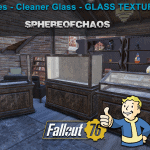 ---
Display Cases – Cleaner Glass
Description:
Replaces current glass display cases with clearer ones.
I found it hard to see my items in the cloudy-glassed display cases.
This mod should be considered in the beta stage, as of v0.75, because I'm not sure what
changing the shared file "glasstile01_g.dds" to a darker and less cracked version will do
to the rest of the transparent glass in Fallout 76. As of the May 19th, 2020 Update Patch,
we cannot yet mod anything other than textures, so this will be "as-is" for the time being.
There are 2 flavors of the mod; please see the screenshots for a visual representation:
One with a texture-only replacement, to get rid of the cracked glass look and one with
changes made to the material files, for a slightly clearer look. I prefer to use both.
Have fun seeing your items slightly better in Appalachia!
– SphereOfChaos
INSTALLATION NOTES:
I prefer to use Vortex as my mod manger, but to do this for Fallout 76, you also need
"Fallout 76 Support (Wastelanders)" by Netrve (https://www.fallout76mods.com/fallout-76-support-wastelanders/).
I then use "Create Custom ini Continued Edition" by GrimTech (https://www.fallout76mods.com/create-custom-ini-continued-edition/).
I add the "createCustomIni.exe" in the Data folder to the Dashboard of Fallout 76 Vortex and run it
after installing any mods. NOTE: Texture Mods ONLY (I think Bethesda Material files are ok too).
Otherwise, you risked getting a spanking by Bethesda, i.e., BANNED.