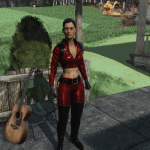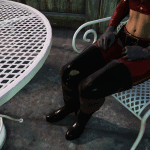 ---
EVB Nuka Girl Space Suit
The hands are vanilla, but I could not get the skin textures to render properly. After half a day screwing around with them I gave up and now they are gloves which render properly.
I have tearing in the knees when she sits but meh, I can live with it. (You can change it pretty easily if you want.)
Thanks to Leito86 for allowing Enhanced Vanilla Bodies to be ported into Fallout 76.