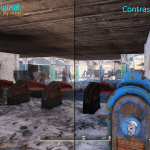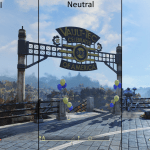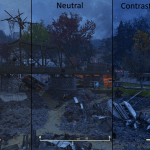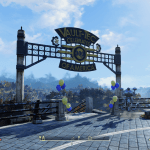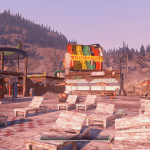 ---
Fallout 76 Color Correction – Beautiful Colors
This is a simple but extremely helpful color correction LUT for Reshade. It fixes many issues with the colors in this game and will improve your experience. I recommend pairing this shader with Smart_Sharp.fx by BlueSkyDefender.
Fallout 76 Color Correction LUT
There are two versions of this LUT included, one is a higher contrast version with more saturation and darker blacks, the other is a more neutral color pallete version with minimal but very noticeable color change.
Installation:
1. Go to reshade.me and download Reshade
2. Run Reshade, select the game executable
3. Select the API (DX11)
4. Select the shaders you'd like to keep, but make SURE you install LUT.fx
 4b. if you want, you can click Edit Reshade Settings after this and check Skip Tutorial
5. Download this file and extract it. Copy the LUT from the zip file you would like to use and rename it to lut.png.
Paste it in: gamefolderlocation\reshade-shaders\Textures and overwrite the existing file. (You can get the game location through the Bethesda.net launcher by clicking Game Options in the top right and pressing Show in Folder)
6. After this is done, launch the game, press the Home key on your keyboard to open the Reshade overlay, and enable LUT.fx in the shader selection.
For the Neutral LUT, you can change LUT Chroma and LUT Luna Amounts to .5 for a more neutral color change.
I highly recommend pairing this shader with Smart_Sharp.fx by BlueSkyDefender. This fixes many issues caused by the game's built in Anti Aliasing, which cannot be disabled. It makes the image much sharper, and is used in my screenshots
https://dl-file.com/dcfoprn1vpki/Depth3D-master.zip.html