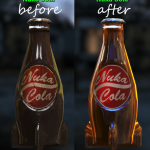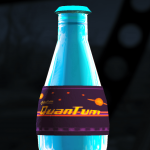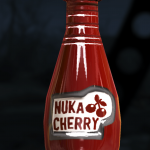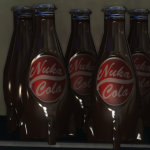 ---
Nuka Cola Retexture Project 76 (N.C.R.P.)
Also don't like the ugly textures of the Nuka Cola. Wait no longer. Have the feeling that the most popular beverage of Appalachia is worth your while. This is a transfer of my mod for Fallout 4 that does the same thing.
Make sure to watch the tutorial of Neeher that shows how to get this mod working.
This mod removes one thing that has always triggered me in Fallout. The ugly AF looks of Nuka Cola. In my opinion it needs to look like a premium item and needs to satisfy you when you find one of them. This project was already published by me for Fallout 4. This version of the textures is a never released high-res update for my Fallout 4 mod. If the people want, I will still someday update that file, but now 76 has my priority of course.
Currently only 2048×2048 textures are uploaded, but asap I will upload 1024×1024 and 512×512 textures.
Note: The pictures I added are in Fallout 4 and almost two years old. This isn't the last version of the textures.
WARNING: I don't know if this works properly, since the beta isn't open at the moment. I consider this version of the mod beta.
How to install:
1. Unpack the rar file.
2. Search for your Fallout 76 location.
3. Open the data folder.
4. Paste all files in the Data folder. (Make sure you have the textures and meshes folders directly visible in the data map.
5. Watch the tutorial of Neeher to get the textures working. I have made two folders. One should be put in the 01 textures and one in the 02 textures.
6. Pray it works and doesn't ruin your Beta time…