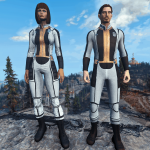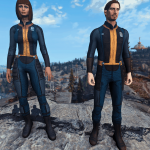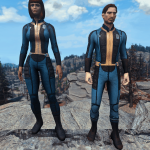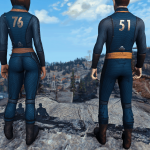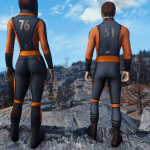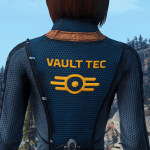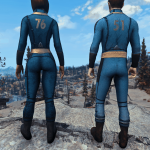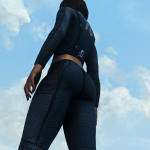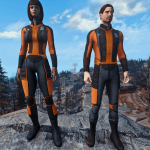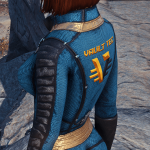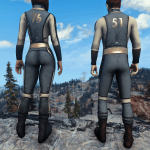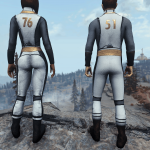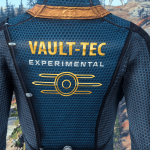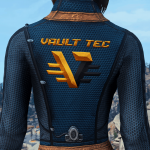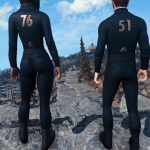 ---
Proto Vault Suit
This will replace the textures for any FO4 style vault suit mesh replacer. 10 different color variants and 3 Vault-Tec logos to replace the vault numbers available.
These will not work for the vanilla Fallout 76 vault suit mesh.
I recommend FO4 Vault Suit mod for easy Plug-n-Play with these textures.
Simple instructions further down to get your own custom FO4 mesh (CBBE, AB, etc) to work in Fallout 76.
Note: Vault Logos are split into Vault labeled folders so you can easily identify and mix and match the logos for the two suits.
Each Logo version has it's own Ba2: PVSLogo51.ba2 and PVSLogo76.ba2
The future numbered vault suits will be added as they become available in-game.
Loose Version:
Download and extract the Loose version and\or Logo you prefer and place the textures folder into your Fallout 76 Data folder
Follow program instructions on the Baka File page.
Ba2:
Download and extract the Ba2 version and\or Logo you prefer and place the Ba2 into your Fallout 76 Data folder.
Add ProtoVaultSuit.ba2 and\or the Ba2 name of whichever Logo you choose to your archive load list in Fallout76Custom.ini
First Time ba2 users:
Create or edit the following file:
Documents\My Games\Fallout 76\Fallout76Custom.ini
Copy and paste the following lines into your Fallout76Custom.ini:
[Archive]
sResourceArchive2List = ProtoVaultSuit.ba2
Add the name of any new ba2 files you install, moving forward.
Navigate to your Fallout 76 vault suit folder:
\Fallout 76\Data\Textures\clothes\vaultsuit
– Delete the corresponding .DDS files
Textures/Clothes/VaultSuit/VaultSuitF_d.dds
Textures/Clothes/VaultSuit/VaultSuitF_n.dds
Textures/Clothes/VaultSuit/VaultSuitF_l.dds
Textures/Clothes/VaultSuit/VaultSuitF_r.dds
Textures/Clothes/VaultSuit/VaultSuitFdirty_d.dds
Textures/Clothes/VaultSuit/VaultSuitFdirty_n.dds
Textures/Clothes/VaultSuit/VaultSuitFdirty_l.dds
Textures/Clothes/VaultSuit/VaultSuitFdirty_r.dds
Textures/Clothes/VaultSuit/VaultSuitM_d.dds
Textures/Clothes/VaultSuit/VaultSuitM_n.dds
Textures/Clothes/VaultSuit/VaultSuitM_l.dds
Textures/Clothes/VaultSuit/VaultSuitM_r.dds
Textures/Clothes/VaultSuit/76logo_d.dds
Textures/Clothes/VaultSuit/76logo_n.dds
Textures/Clothes/VaultSuit/76logo_l.dds
Textures/Clothes/VaultSuit/76logo_r.dds
Textures/Clothes/VaultSuit/51logo_d.dds
Textures/Clothes/VaultSuit/51logo_n.dds
Textures/Clothes/VaultSuit/51logo_l.dds
Textures/Clothes/VaultSuit/51logo_r.dds