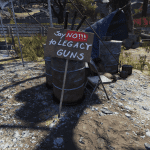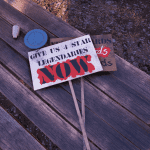 ---
Reality Check Protest Signs – Fallout 76
This mod will replace all the Protest signs in the game!!!
The slogans I added are based on comments and articles I read on Redid , Discord, Facebook , twitter , … they come from all player bases so some slogans will be harsh!!!
I think they are ideal for live streams to make a point to Bethesda or your fellow players .
INSTALL
To install this mod add the file "SeventySixMod -ProtestSigns.ba2" to you fallout data folder.
example: C:\Steam\steamapps\common\Fallout76\Data
Then edit your "Fallout76Custom.ini" located in C:\Users\YourName\Documents\My Games\Fallout 76
Add the following to the file SeventySixMod -ProtestSigns.ba2
Example:
[Archive]
sResourceArchive2List =othermod.ba2, othermod2.ba2, SeventySixMod -ProtestSigns.ba2