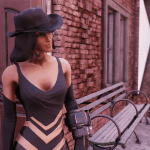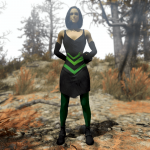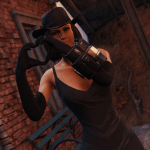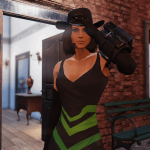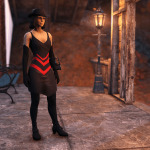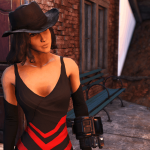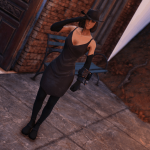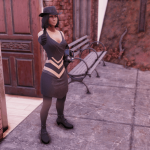 ---
Tattered Dress – 4k Multicolored Edition
This mod is a simple hi-res retexture (with color options!) of a quite popular Mistress of Mystery Tattered Dress.
Only you will see this retexture in your game, other players will still see the standard outfit textures on your character, so it's just for your own aesthetic pleasure and screenshotting purposes.
Many people requested this outfit retexture after they saw my take on Garb of Mysteries retexture, I made this one in the same color schemes. The main reason for this is the following: when you equip the Tattered Dress, the game still uses some parts of Garb of Mysteries outfit texture (stockings, boots, gloves, mask). So if you already have my Garb of Mysteries mod, that alter these accents, the colors will match perfectly. Or you can mix and match to get, for example, dark Tattered Dress and stylish red mask/stockings, it's totally up to you -)) If you don't use my other mod, then the game will use vanilla texture parts from Garb of Mysteries, which offers color-neutral solution (not high-resolution, though) that also fits quite well with the current mod.
If you have any critique and/or suggestions, feel free to post a comment so I'll know what to work on next!
The main archive (as of version 1.0) contains all color variations currently available as follows: Red, Classic Green, Tan/Cream, Dark (almost completely desaturated version), each in its separate folder.
Installation
1. Find the folder within the archive with the color scheme you like best.
2. Extract the TDress.BA2 from that folder to your Fallout76 Data folder.
3. Add the following line to the bottom of the [Archive] section in your Fallout76Custom.ini file:
sResourceArchive2List = SeventySix – ATX_Main.ba2, SeventySix – ATX_Textures.ba2, TDress.BA2
If you already have the string that begins with "sResourceArchive2List" in your Fallout76Custom.ini file, then just add ", TDress.BA2" to the end of that string (without the quotes).
Uninstallation
1. Remove TDress.BA2 file from your Fallout76 Data folder
2. Remove ", TDress.BA2" from sResourceArchive2List string from your Fallout76Custom.ini file