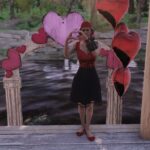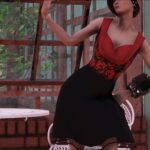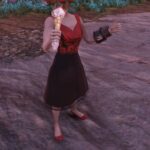 ---
Valentine Dress (Stars and Stripes base)
This is a loose texture replacement for the Atom Shop dress called Stars and Stripes.
This is a loose texture mod for Fallout 76 that replaces the Atom Shop dress texture, Stars and Stripes with some of the textures from the new Valentine Day pantsuit.
The files are loose, so you will need one of the fancy mod managers to install it.
I chose to make the dress fairly clean instead of dirty because the pantsuit was also very lightly worn in. There are some seams on the sides of the bodice where the roses don't quite line up – but that happens in real life as well. The bottoms of the shoes are also brown and I will change them to black if someone asks me super nicely. My character is wearing a Cloche Hat in a few screenshots and holding the Heartbreaker wrench skin from last Valentine's Day. I also have the original Spring in Appalachia mod installed.
I did not use any filters for the screenshots.
This Valentine's dress will not count for any of the Valentine's Day challenges, so don't forget to swap back to your pantsuit!