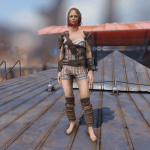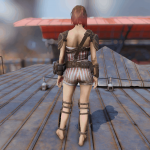 ---
Vault (Swim) Suit
Have you ever wanted to wear the Swim Suit under your armor? Well, now you can! This replaces the Vault Suit with the model for the Swim Suit. Male and Female both included. All benefits of the Vault Suit Linings will still apply to the suit and your character. The Swim Suit costume is unaffected by this mod and still functions as Bethesda intended.
I kept the inventory and dropped models as the Vault Suit so you know what you are equipping, and so that if there is a suit to loot in the open world, you will know it is a vault suit and not think it is a swim suit costume.
Just something I made for fun. Enjoy!
You will be barefoot because the Swim Suit model does not contain footwear.
Installation:
Baka Version:
Download and extract the Loose version and place the meshes folder into your Fallout 76 Data folder
Follow program instructions on the Baka File page.
Ba2:
Download and extract the Ba2 version and place the ba2 into your Fallout 76 Data folder
Add the VaultSwimSuit.ba2 to your archive load list in Fallout76Custom.ini
First Time ba2 users:
Create or edit the following file: Documents\My Games\Fallout 76\Fallout76Custom.ini
Copy and paste the following lines into your Fallout76Custom.ini:
[Archive]
sResourceArchive2List = SeventySix – 00UpdateMain.ba2, SeventySix – 00UpdateStream.ba2, SeventySix – 00UpdateTextures.ba2, VaultSwimSuit.ba2
Add the name of future ba2 files to the end. Make sure you have a comma followed by a space and then the name of the ba2. Repeat this step for any new ba2 files you install going forward.