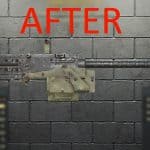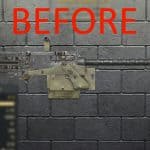 ---
50 Cal M2 Invisible Handle Grip Fix
This mod fixes the invisible handle/grip on the .50 M2 Machine Gun. It was requested by a friend to improve his immersion.
I understand the controversy over "broken" .50s but this mod isn't going to make or break that situation.
Please note that this works client-side only, so only you can see it. Other players will still see you carrying a .50 without a handle.
Just in case you were wondering the skin DOES still apply to the handle correctly!
Installation:
I recommend you use Fallout 76 Quick Configuration for a hassle-free and future-proof modding experience
(Fallout 76 Quick Configuration – INI-Editor and Mod Manager at Fallout 76 Nexus – Mods and community)
Manual Installation:
– Put the .ba2 file in the fallout 76 data folder
– Add the filename of the .ba2 file to the [Archive] section in your Fallout76Custom.ini