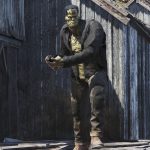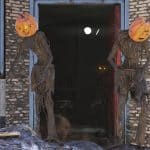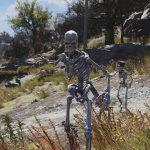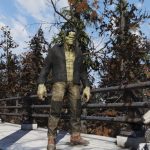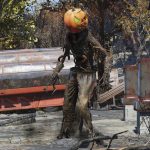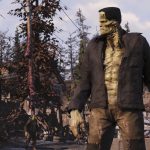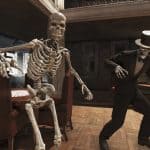 ---
A Post-Nuclear Appalachian Halloween
Experience the spooky and the kooky this Halloween with a modest ensemble of Halloween monsters!
It's October, you know what that means! The most frightening time of the year has arrived at Appalachia, and it's brought a horde of terrifying monsters with it.
The wasteland itself may not have been able to bury you so far, but can you survive wandering about whilst also trying to not get scared stiff from the morbid terror of skeletons! And Franken-monsters! And evil pumpkins! Oh my!
There are 5 files in total. The textures, the Frankenstein Monsters, Skeletons with and without clothing (for those of you who prefer your spooky lads all natural), and the pumpkin creatures.
FEATURES
– spooky scary skeletons
– shivers down you spine
– compatibility with the upcoming Halloween Scorched event, assuming Bethesda applies the Halloween costumes to Scorched the same way they do Christmas
– intel officer backpacks replaced with coffins (scorched and/or ghouls, depending on which files are installed)
– no known crashes
– dismemberment*
– 100% S P O O K
You'd better bring a shovel if you can dig this graveyard smash.
Credit to billionlioe for assistance with textures and providing a basic mesh for the pumpkin creature torso, some folks from the Fallout 4 forums on these parts with troubleshooting some issues during the making of this mod, and myself for hooking up the character assets for use.
Happy Halloween!
*Super Mutants dismember as usual, only scorched heads can be shot off but I implemented a workaround to let them bloody mess into gibs, and ghouls only properly dismember if all of the planets align.