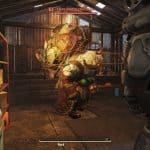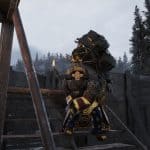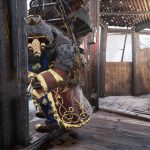 ---
ACAB76 TreasureHunter Season6
Moleminers treasure hunters are back from earth depthes again ; They heard about a cosplay in Appalachia during this season 6 thus they prepared themselves to the party dressing properly !
(non canon) Long time ago, moleminers were workers inside the mines and they had to revolt against the big owners and their army of mercenaries.
Amongst them, there were a few union leaders which used to represent them to negociate with the bosses…
However, when things came out of control before the big war, as they were loosing their jobs one after another, missing the money to eat, heal and being threatened with their familly to be evicted from their home, they were able to see who was actually their good comrades, and who weren't.
If some leaders came with them to strike and make direct actions against the big owners, most of them have been corrupted, and just tried to escape with the money they were given by the bosses to end negociations with poor incomes for the workers. Then, as the workers were struggling to survive despite of the repression, …Fall the bombs ; In a world of radiations and heavy chemicals melting, something hard to explain happens to these workers.
They became like a new race of animals irrupting from the depth, while still looking like they kept some of their human spirit from before the bombs.
It seems they put at hard work the ancient corrupted union leaders to punish them : Once a while, they have to go outside alone in the wild Appalachia to grab all the stuff they can and bring it back to the Purveyor, pillar of their new moleminers community.
During this season 6, to mingle discreetly with the cosplay of humans, they are going out clothed as kings…
It is hard to tell if this is because of the hazing from their ancient comrades, or perhaps because of them being fans of their favorite character in Grognak comics : The non-cannon King of all dwarves ! What is sure is they might enlight the days of human hunters tracking them during this season !
P.S. Please, use at your own risk : Of course, this mod has not been tested yet during the incoming real event.
Also, screenshots are moleminers skinned with the treasure hunters outfit during tests ; real treasure hunters won't shoot at you with this mod !
( and casual moleminers will still remain vanilla ones )
P.P.S. This mod might give you a little advantage over the other players because of the torch light and other hidden details.
If so, it is not really a massive advantage as the treasures hunters are yet pretty luminous and sounding from afar ; still if they flee away, you might see them a bit better, thus, please as soon as you choose to use this mod, it becomes your responsability to stay fair, and to always share your target with other players when you can ; Thank you.
Archive .rar including 2 .ba2 files ( one for textures, the other for meshes and materials ) to copy inside the "DATA" directory of the game. Then just include their names to the list sResourceArchive2List in Fallout76Custom.ini as per usual.