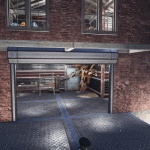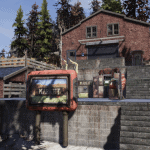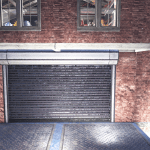 ---
Brick Rolling Garage Door Exterior
This is a retexture of the corrugated metal warehouse walls, as well as the exterior of the rolling garage door exterior replacement. I wanted something for personal use, as the Garage door looks awful surrounded by that metal on a brick building to me.
I realize that there is an issue with the texture just being flat, I am unsure how to match the mesh from the brick wall on to it. If someone has an idea on that, I would be happy to fix and reupload this mod. Visually it looks good, but up close you can see that it is flat, especially compared to the brick wall itself.
If someone wants the same for the other variations of the walls, do let me know and I will try to complete the request. If I can get the issue mentioned above fixed then I could be sure it looks correct.
To install this mod, place rollingdoormat.ba2 into the Data folder and then update Fallout76Custom.ini.