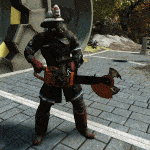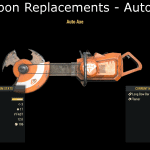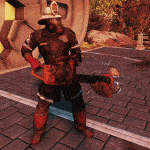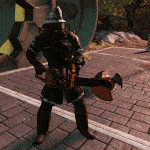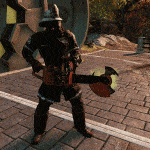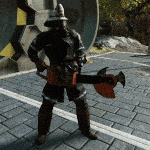 Weapon Replacements – Auto Axe
---
Replaces the Chainsaw, Minigun, or Mr. Handy Buzz Blade with the cut/unreleased Auto Axe.
The Auto Axe is a cut/unreleased automatic two-handed melee weapon in Fallout 76 that was originally featured in Fallout 3. Like some other weapons featured in other Fallout games, the Auto Axe was planned to be added in Fallout 76 possibly around the Wastelanders update. You can learn more about the Auto Axe at the Fallout fandom wiki.
WARNING: The game lowers the volume of some sounds including the Minigun's barrel spin sounds, which this mod replaces with the sounds from the Auto Axe mods. I countered this by increasing the volume of the sounds from the Auto Axe mods by about 2.5 times, so be aware of this if you decide to listen to them outside of the game. Also note that the chainsaw also uses the Minigun shredder barrel spin sound.
NOTE: Because some of the options of this mod replace a lot of game assets, they come with side effects. Most notably, the Mr. Handy Buzz Blade replacement options replace most two-handed melee weapon animations, causing two-handed melee weapons to be held by players and NPCs in a strange way.
Installation
1. Extract the contents from the zipped file to C:\Program Files (x86)\Bethesda.net Launcher\games\Fallout76\Data
2. Open Fallout76Custom.ini located in %UserProfile%\Documents\My Games\Fallout 76
3. Add the name of the extracted file (931.ba2), including the extension (.ba2), (and a comma before it if you already have other mods installed) at the end of the line with sResourceArchive2List (You can find the line by pressing Ctrl+F and typing sResourceArchive2List)
Example: sResourceArchive2List=OtherMods.ba2,931.ba2
4. Save the changes to Fallout76Custom.ini
If you don't have Fallout76Custom.ini, copy Fallout76.ini and rename the copy to Fallout76Custom.ini