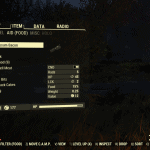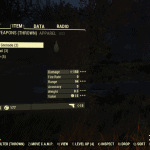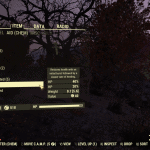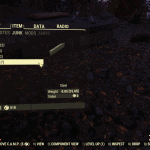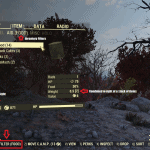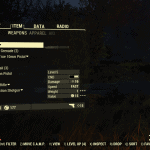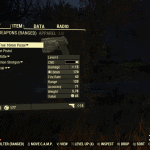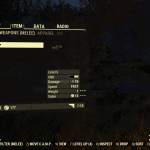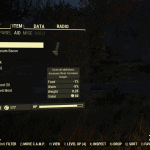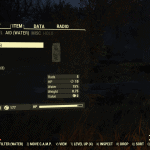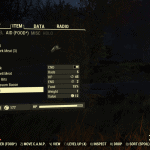 Better Inventory
---
Save your sanity trying to survive! Filter your AID tab for Food and Water, see the combined weight of item stacks, and view your inventory weight for each tab so you know which category is weighing you down.
Always over-encumbered but don't know where your weight is coming from?
Dying of hunger/thirst because you can't find your food and drink items among all the other chems/Stimpaks/RadAway/bobbleheads in the Aid category?
Better Inventory is a UI mod that adds inventory filters for several inventory categories and shows you the weight of each inventory category.
Features
Filter the Aid tab for Food, Drink and Chems (and Food* / Drink* – asterisks refer to disease-free cooked food and drink items with a limited condition)
Filter the Weapons tab for Ranged, Melee and Thrown weapons.
Filter the Apparel tab for Outfits and Armor.
Filter the Notes tab for unread plans and recipes.
Keyring: Keys and passwords are collected under the MISC (KEYS) filter.
View your inventory weight on a per-tab basis to find out where your carry weight is coming from.
View the combined weight of a stack of items, e.g. weight of an ammo type / stimpaks / junk
Jump two tabs at a time by holding the Shift key while navigating left and right.
Jump directly to the first (Weapons) or last (Ammo) tab by holding the Shift key while navigating up and down.
How to use
When in the Inventory page on your Pip-Boy, press Ctrl (or LB on a gamepad) to cycle through item filters. Press Alt to cycle backwards through filters.
You can also click or scroll on the tab header to change filters.
Pressing the number key 1 will remove any applied item filter, and keys 2-9 will activate a specific item filter directly.
The inventory weight of your currently selected tab is displayed within square brackets next to your carry weight reading.
Installation
1. Download and extract the mod to your Fallout 76 Data folder, e.g. \Bethesda.net Launcher\games\Fallout76\Data
2. Add BetterInventory.ba2 to your archive load list in Fallout76Custom.ini.
3. Launch the game.
First time installing a BA2-archive mod in Fallout 76?
If you are new to F76 modding and have not yet created Fallout76Custom.ini:
Download it from the Optional Files section in the Files tab.
Place the file in \My Games\Fallout 76\.
Then place the main file (BetterInventory.ba2) in your Fallout 76 Data folder and you're ready to go.
Otherwise, if you have an existing Fallout76Custom.ini, add the following lines to it.
[Archive] sResourceArchive2List = BetterInventory.ba2
If you already have this line, append BetterInventory.ba2 to the end of the existing line. Entries are separated by a comma.
Compatibility
This mod modifies the interface file Pipboy_InvPage.swf and will not be compatible with other mods that modify the same file.
Game updates to Pipboy_InvPage.swf may require a mod update for continued functionality.
Additional Notes
This is an interface modification. It does not use any hidden information that is not already available for you to view in the Pip-Boy. Nothing on the server is affected or changed in any way by this mod. This mod does not take any server-side interactions on your behalf. You must still equip weapons and consume food yourself.